Waxing terms are often used interchangeably – Brazilian Wax, Hollywood Wax, Sphinx Wax, etc. In fact, our most requested post from readers is asking us to explain the differences in different waxing styles.
Covering everything in one post would be a lot. In this post, we set out to answer the question- what is a Sphinx Wax?
Definition of Sphinx Wax
A Sphinx Wax is simply another term for Brazilian or bikini wax, meaning that all pubic hair is completely removed from both sides of the bikini area (front and back). Sphinx waxing is ideal for women who are looking to wear a minimal swimsuit or thong. Sphinx Waxes can be done in the privacy of your own home or at a spa or salon. The last thing that you want is to have any pubic hair visible at your bikini line. Sphinx waxing will ensure that your pubic area is waxed smooth, so you don't have to worry.
Hollywood Wax vs. Sphinx Wax – are they the same?
Yes, the terms "Hollywood Wax" and "Sphinx" Wax can be used interchangeably. Both terms refer to the complete removal of pubic hair on both the front and backside.
Do Sphinx Waxes Hurt?
The Sphinx wax includes the most sensitive areas of your body, so it is normal to feel some discomfort. The amount of pain you experience will depend on your own personal pain threshold and how often you wax. If this is your first Sphinx Wax, it's important that you know what to expect.
Some tips to help reduce Sphinx Waxing pain:
Use a good quality wax that is designed for sensitive skin
Warm the wax before use (test it on your arm to make sure it's not too hot)
Apply a thin layer of wax and wait for it to go slightly sticky before removing in the opposite direction of hair growth
Apply a cold compress to the area after waxing if you have any redness or irritation.
Where can I get Sphinx Wax?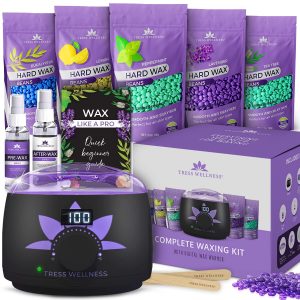 You can Sphinx Wax at home with some quality kits available on the market, or go to a spa or salon for professional service. For those looking for a do-it-yourself Sphinx Wax, we suggest the following Sphinx Wax Kit from Tress Wellness available for only $49.25 on Amazon.
Conclusion
Don't be confused if you go to your waxing studio's website and you only see Hollywood Wax or Sphinx Wax on their service offerings. These terms both refer to complete hair removal. Also, many studios do not differentiate between different types of Brazilian waxes. It is important to consult with your licensed cosmetologist or esthetician to ensure that you are getting exactly what you want.
Have more questions? Be sure to check out our post on how to prepare for a Brazilian wax: https://brazilianwaxguide.com/preparing-for-a-brazilian-wax/
Our Favorite Sphinx Waxing Products
[amazon table="4943″]